Create

an

Ascensia

Account
We are happy that you have decided to use GlucoContro.online!
The first step you need to take is to register in GlucoContro.online. Please follow the steps below to do it. The process will require a small amount of time and some of your data (for instance Name, Surname, Diabetes Type, Treatment type as well as your insurance number and payer name).
If you already use Contour Diabetes App on your smartphone then you do not need to register. You can directly log in to GlucoContro.online using your login and password from Contour Diabetes App. If you happen to forgot your password to Contour Diabetes App then please reset the password using the application first.
Step number 1:
Please go to theGlucoContro.online main (https://www.glucocontro.online/) page and click "sign up" on the lower-right corner: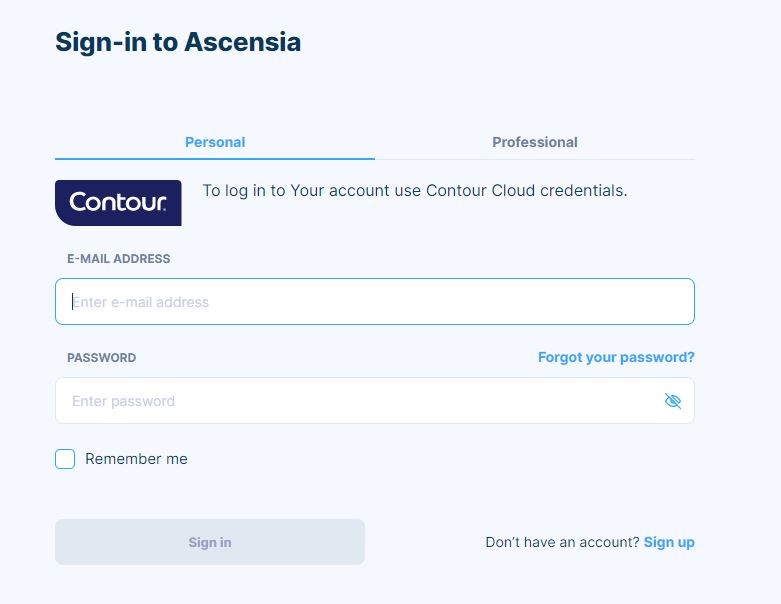 Step number 2:
You will be asked to provide some information about yourself. Please choose Personal Account type. If you would like to register as a Healthcare Professional or Caregiver, please be aware that functionalities for other account types are described in another User Guide.
Please fill all displayed fields accordingly. Remember to choose the password that is easy to remember but on the other hand hard to guess. Password must contain at least 8 characters including one number and one letter. You must also agree to the Ascensia Terms of Service to continue.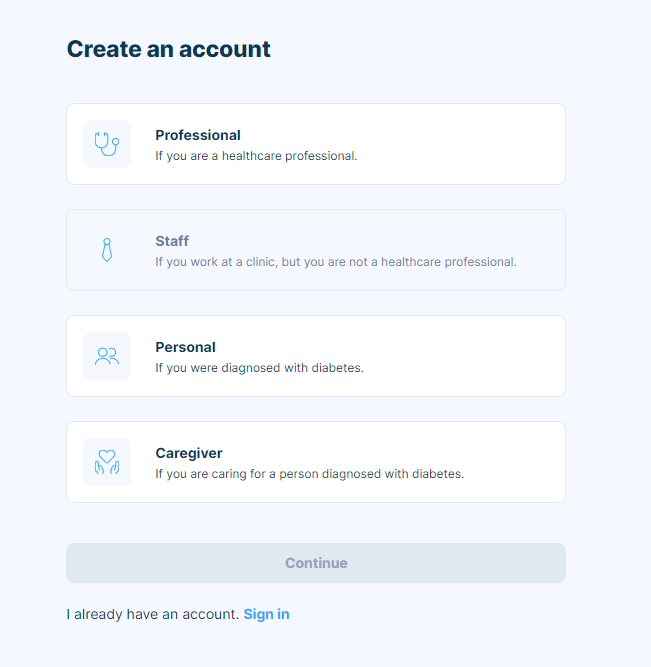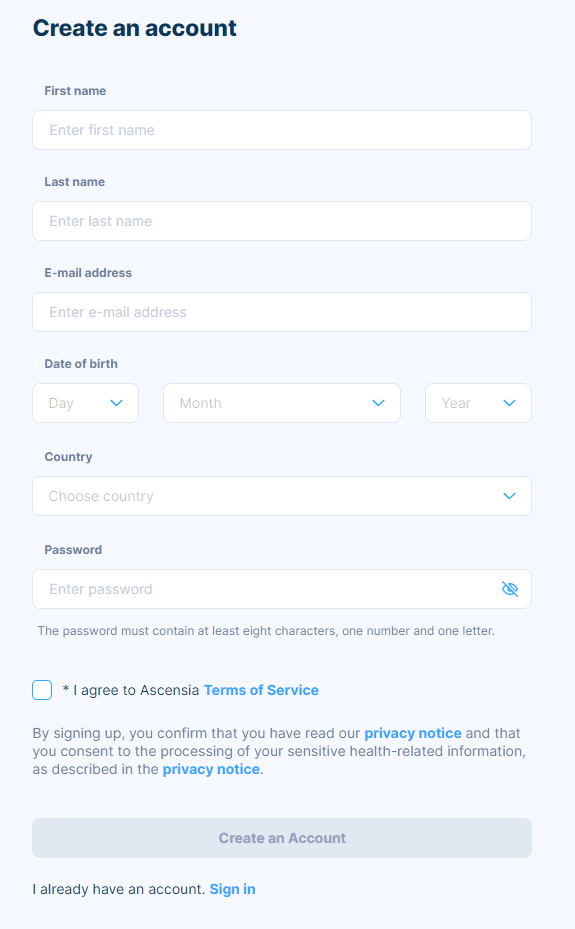 Please be aware that GlucoContro.online may be used only by People over 18 years of age. Registration will not be possible if the date of birth provided indicates lower age.
Please make sure to choose the Country that is relevant for your place of treatment. You will be able to share your data with Healthcare Professionals within this Country. Also, all your Personal and Health Information will be physically stored on the Servers which are located in the following places:
For United States and Canada, the Server is located in the United States.
For Australia, Hong Kong, Malaysia, Thailand and Singapore, the Server is located in Australia.
For all other countries the Servers are located in the European Union.
Step number 3:
After filling out all fields you should see the request to confirm your e-mail address.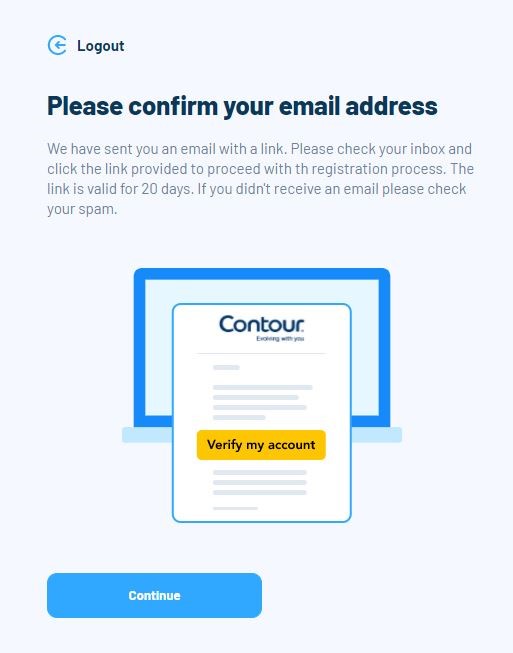 Please go to your mailbox and look for registration e-mail from Contour Cloud:

Contour Cloud is an Ascensia service that will not only let you use GlucoContro.online but also Contour Diabetes App that you can download from Apple App Store and Google Play.
Open the e-mail, read all the content and click "Verify my account":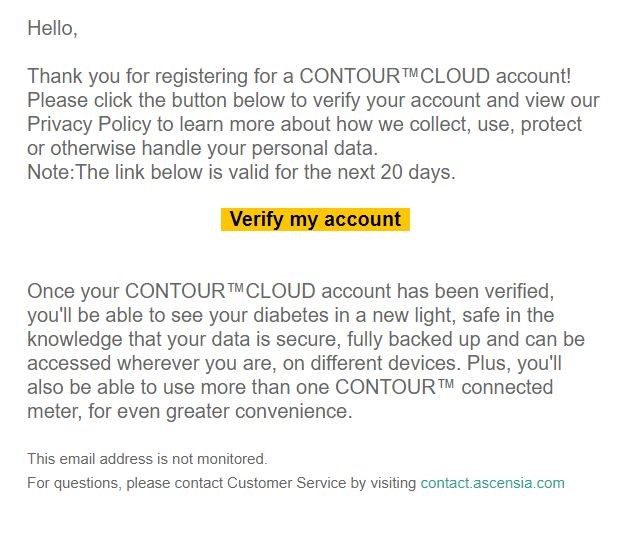 You will be displayed with the information about privacy policy. Please familiarize with all the privacy policy information, tick the box (so you admit that information has been read) and click "Continue" button.
You can tick the second box to receive the latest information from Ascensia Diabetes Care.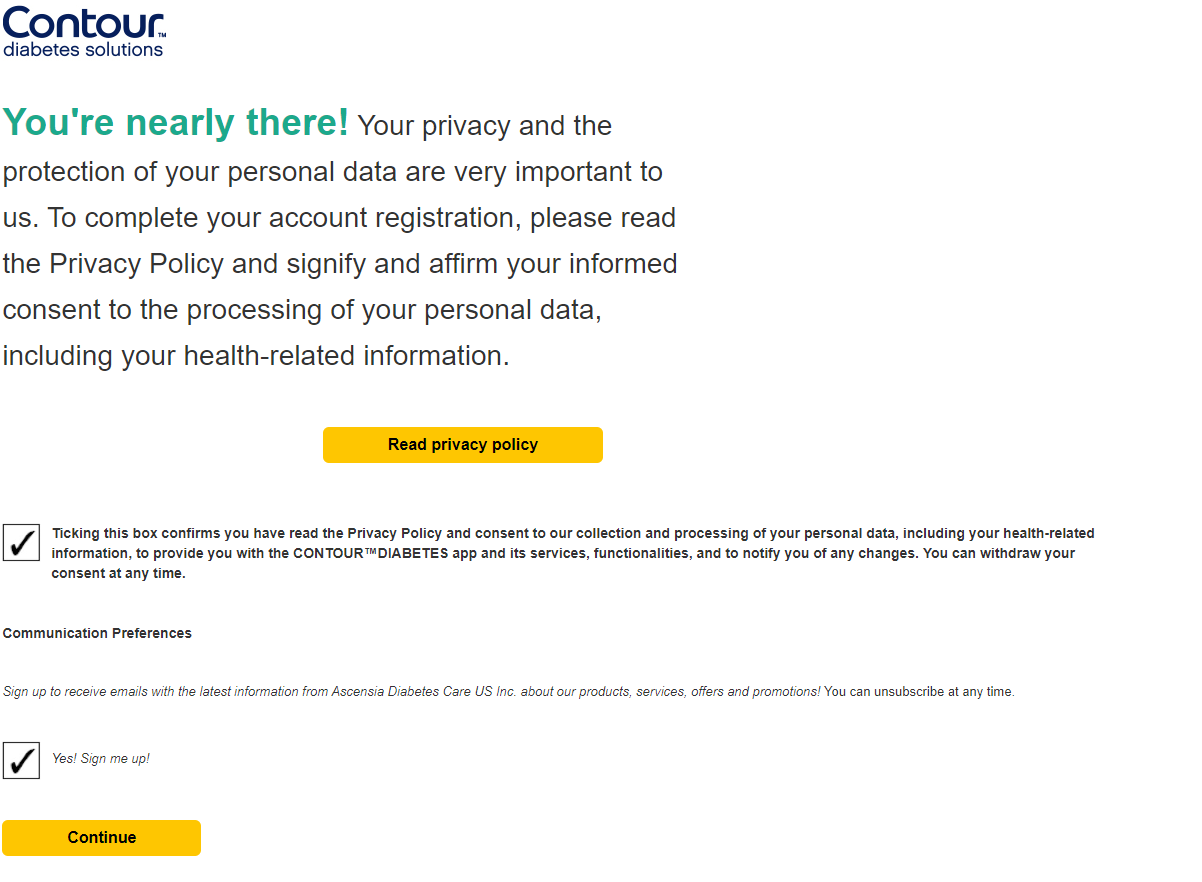 Next, go back to GlucoContro.online and press continue button.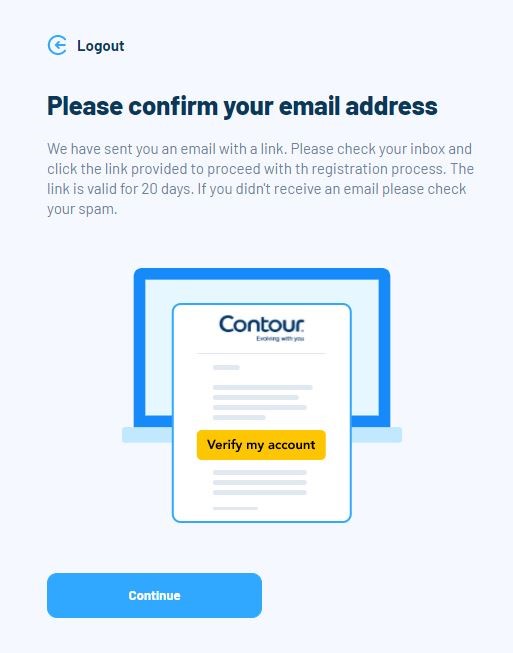 You will be redirected to the log-in screen. Provide your e-mail and password and Click Sign-in.
Step 4: Provide additional information
Please be aware that there might be some differences to the scope of the data being asked depending on your selected Country. After filling out the form please click "Continue" button: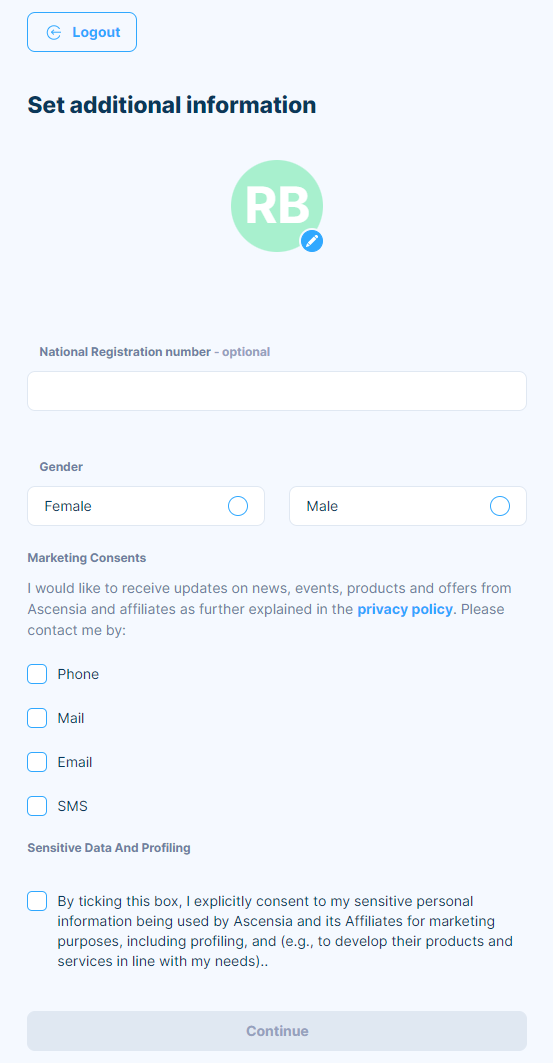 Step number 5:
Depending on the Country you have selected this step might be skipped. In this case your data will be stored in the Central Storage.
Please choose preferred storage option for your Health Information: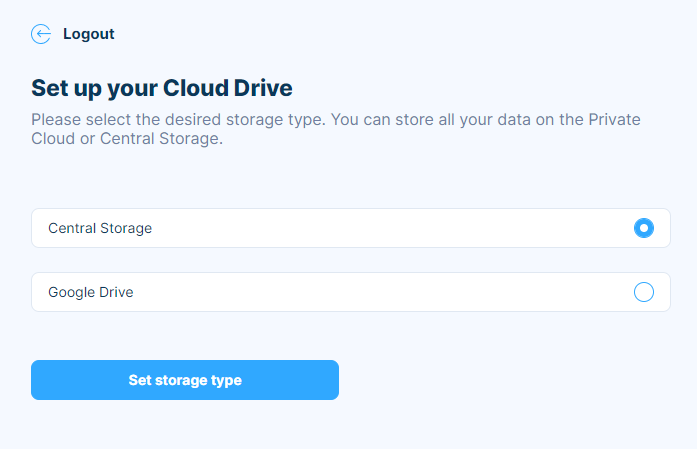 Central Storage means that you Health Information will be stored in Microsoft Datacenter which is governed by SdNcenter Sp.z.o.o (the manufacturer of GlucoContro.online).
Google Drive lets you use your own private Google Drive to store all of your Health Information used by GlucoContro.online. If you choose this option you will be prompted to log in to your Google Account and grant consent for GlucoContro.online to access your Drive. Please be aware that in this case you must keep your Google Drive safe and accessible to GlucoContro.online.
In both cases all Health Information stored are anonymized in a way that only you and Healthcare Professionals you will authorize are able to link your Health Information back to your Personal Information.
Step number 5:
Please provide Health Information about yourself. Please be aware that there might be some differences to the scope of the data being asked depending on your selected Country. After filling out the form please click "Submit" button: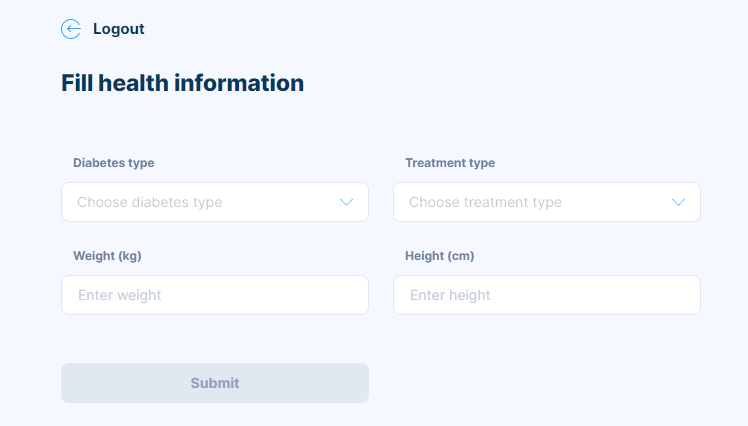 That's it! You are now able to use GlucoContro.online!