In GlucoContro.online we are putting high focus on privacy of your medical information. To make sure the application can meet the expectation of all users we provide multiple storage options with different level of security.
During the registration process for Personal account and creation of new Clinic for Commercial accounts you will be prompted to choose your preferred storage options for medical records during the step called Set up your Cloud Drive.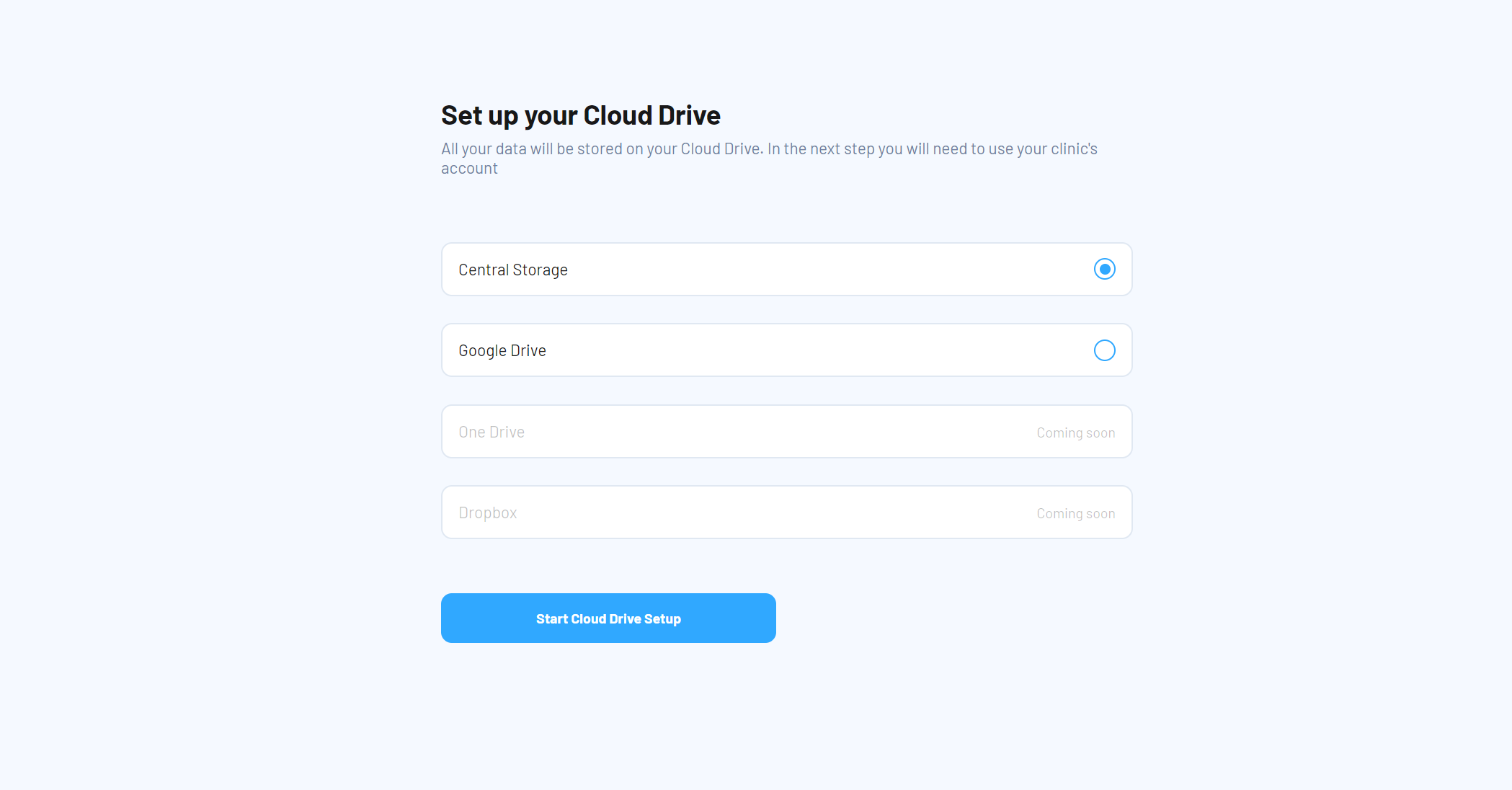 Currently you can choose between Central Storage and Google Drive, information below provide more details for each option:
Central Storage - if you choose this option your medical records or records stored within your Clinic will be persisted within our highly secured, annonymized, geo-distributed, encrypted central database for protected health information. This storage is kept separate from your identity, account details and/or Clinic details and the only way to match medical information with your account is using the access key that is encrypted with your passphrase or passphrase of each of your health care professional. The key to access medical information is decrypted only within the browser and therefore users can be sure that no one besides themselve can access and match medical information with their identity.
Google Drive - this option is one of our "Bring Your Own Cloud" industry leading and unique options. Within GlucoContro.online you or the Clinic you create can keep the medical records within private cloud drive like Google Drive. In this scenario no medical records are ever send to our servers and entire process of loading and persisting medical data is happening between the browser and cloud drive provider (i.e. Google Drive).* Access tokens to cloud drive are encrypted with users passphrase and never send in clear text to our servers. Decryption of access tokens takes place within end-user browser and therefore no one can access medical records unattanded.
* for Google Drive the medical records are stored within hidden application folder and are accessible only for GlucoContro.online application. Owner of Google account will not see those information within his drive at drive.google.com however the space quote will be consumed.
Table below provides summary for existing storage options:
| | | |
| --- | --- | --- |
| | Central Storage | Google Drive |
| Medical Data Sent to GlucoContro.online servers | Yes | No |
| Link between account details and medical records encrypted | Yes | Yes |
| Data encrypted | Yes | Yes |
| Geo-distributed | Yes | Yes |
| Performance | Very High | High |